Math coaching is an important part of MMSA's professional learning experiences. Over the course of the year we have worked with several districts, developing a mathematics professional learning plan and working with educators depending on the goals the district and educators have set forth. These are some examples from our STEM Math Education Specialists along with reflections from educators:
Cheryl Tobey: One aspect of the ongoing mathematics professional learning plan in RSU25 is team and individual coaching cycles. During the cycles, an MMSA coach facilitates a structured co-planning→class visit→debrief cycle focused on student-centered indicators from National Council of Teachers of Mathematics' areas of practice: 1) Establishing mathematics goals to focus learning, 2) Using and connecting mathematics representations, 3) Building procedural fluency from conceptual understanding, and 4) Implementing tasks that promote reasoning and problem solving. 
Team Cycle Reflections:
The process of co-planning and seeing someone else teach was phenomenal. My new emphasis will be on helping students make sense of math and develop their reasoning skills. I expect to feel a bit overwhelmed at first because I did not grow up with this type of math background, but I want students to have the best math experiences possible, so I want to make this change for them!
As the team member who volunteered to teach the lesson, I was nervous that I would make a mistake or that the students would not cooperate. The team planning process helped me feel prepared and I even forgot about all the adults in the room once the students were involved in the learning task! The team feedback was both affirming and insightful and I walked away from the process with many ideas to incorporate in future math lessons.
Hannah Lakin: At Leavitt Area High School, math teachers spent the 2019-2020 school year collaborating as a coaching community. Focusing on purposeful questions and tasks, teachers discussed strategies and artifacts of student work, sharing feedback with one another in a safe space where they could grow in their practice. A couple of the teachers reflected: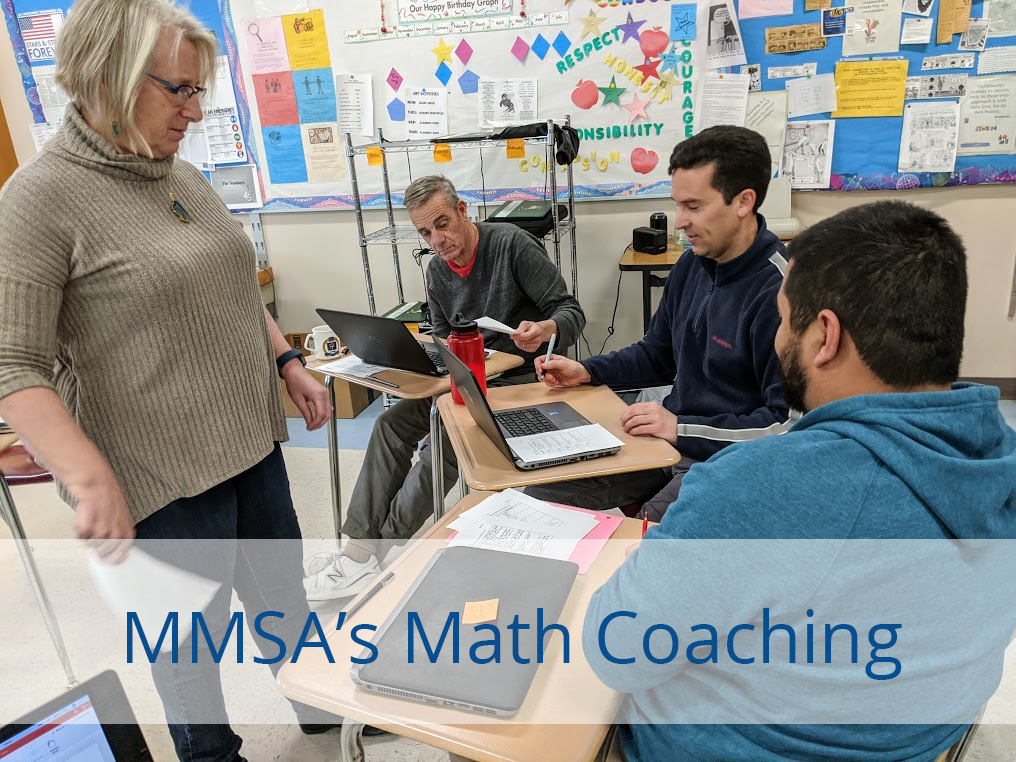 "I think I enjoyed the purposeful questioning work the best because it is a strategy that I feel I can continue to apply more often in my classes. Too often I don't think I let the kids think enough on their own before just telling/showing them how to do something. If I would pose some purposeful questions instead, I think I could get my students to think more. This is something I will always be working on."
"I feel because of the way you supported us, listened, did not judge and answered questions, and gave feedback that you allowed us to feel uncomfortable with some activities, if it was uncomfortable, but that allowed us to accept the uncomfortable and try it and then maybe like it. I hope that makes sense because I know when I feel uncomfortable, I don't want to do it but you made it OK to feel uncomfortable and to still try it."
Becky Tapley: The goal of the coaching work with the teachers at NRMS was to develop and promote mathematical reasoning and sense making among the middle school students, rather than focus on procedures and rote learning. The ultimate goal was to improve the chances that Nokomis students become competent and confident in mathematics. The district had recently adopted a new math program and teachers were using it for the first time. Additionally, the new regional school had brought the six math teachers together from separate schools and some of them were working together for the first time. One young teacher had this to say about the experience of working with a coach: 
"As I have been reflecting on this past year, I have realized how beneficial your input has been. As a first year teacher, sometimes it can all feel a bit overwhelming, but your input and feedback are exactly what I'm craving. I want to wrestle with what will best engage students in their mathematical thinking and reasoning and go beyond just the answers. I know this was what you were trying to struggle through with me, and I just wanted to say I appreciate that."
Individual Cycle Reflection:
Having a coach visit my math lesson through Zoom was a new process for me. I wasn't feeling confident after the lesson as it didn't go as planned with lots of students displaying misunderstandings during the whole class sharing and discussions. The debrief process focusing on the correct and incorrect ideas students shared helped me feel more confident as we brainstormed ways to use student errors productively, especially when they take me by surprise. 
If you would like more information on working with the MMSA consulting team, contact us for more information or to find out how we can create a customized workshop to fit your needs.